P92 Echo MkII
Since 1994, the Tecnam P92 comes back with a new version: always high wing, two place, single engine airplane equipped with tricycle landing gear.  The P92 Echo MkII comes today with up-to-date technology, composite fuselage, glass avionics and the same pleasant flying qualities: safe and easy to fly with beauty, inside and outside.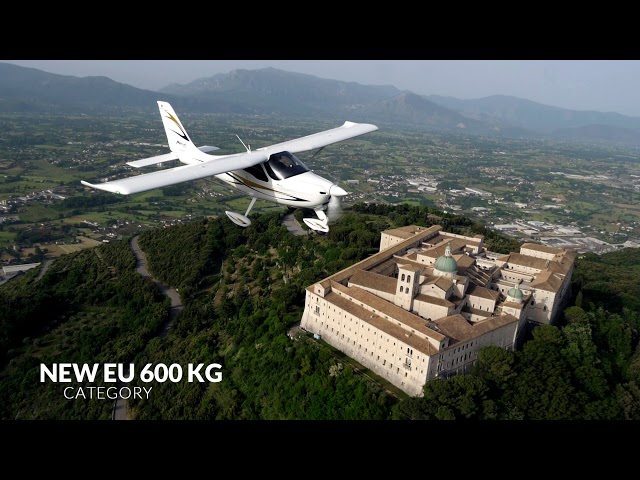 The P92 Echo MkII has both metal wings and a metal stabilator. Tecnam chose to construct the P92 Echo MkII with metal wings and stabilator structures for strength, reliability, and the ability to flex in flight, thereby ensuring a more comfortable ride. To produce the desired increase in cabin width and greater aerodynamic efficiency, Tecnam chose carbon fibre.
The decision to use both materials was for the optimisation of aerodynamic qualities, flight characteristic, and reliability. This addition enables Tecnam to make construction decisions based on optimum design and structural integrity rather than purely the cost of production.
The doors which are lined with automotive type door seals, seats that give full support with excellent leg room, side map pockets as well as pockets in the back of the seats all combine to make the P92 MkII a very comfortable aircraft.
Some of the advantages: Superior performance and flight characteristics. Low stall speed with excellent response at all speeds. Stable and Responsive with uncompromising build quality (based on CS/VLA certified Aircraft). Excellent visibility, roomy, quiet and ergonomic.
The all movable type (stabilator) horizontal tail, traditional on Tecnam aircraft, allows excellent controllability and excellent "hands off" longitudinal stability.
The cabin offers newly designed seats and seat rails which are easily operated and adjustable fore and aft via a single handle with a reinforced area between the rails to make cabin access even easier. A roomy baggage compartment with internal acccess accommodates voluminous items.
A wide cockpit panel provides plenty of room for glass panel avionics.
A comfortable armrest and USB charger round out the luxurious interior.
Everything about the Tecnam P92 Echo MkII is designed to allow you and your passenger to experience the most outstanding style, comfort, and beauty of flight..
Enjoy the P92 Echo MkII!
Powered by ROTAX
Flight instruments and indicators
Magnetic Compass
Airspeed Ind.
Altimeter Dual Mode (In/Mb)
Vertical Speed
Bank Indicator
Pitot System
Static System
Stabilator Trim Position Indicator
Tachometer
Hour Recorder
Oil Press
Oil Temp.
Head Temp.
Fuel Press.
Voltmeter
LH + RH Fuel Q.ty
Stabilator Trim Position Indicator
Flap Indicator
Two Integral Fuel Tanks With 95L 25 USgal Total Capacity 
Engine Driven Fuel Pump
Fuel Tank Quick Drain , Two
Hydraulic Toe Brakes
Parking Brake
Electrical Flaps
Dual Flight Controls
Steerable Nose Wheel
Stabilator Trim (Electric Actuated From Stick)
Engine Controls:
– Central Quadrant With Single Throttle Lever
– Choke
Flight Trim Controls:
Stabilator With Indicator
Fuel Control Selector Andair
Starter Key ACS 
Split Starter
Avionic Master
12 Volt 18A Amp. Battery
12 Volt Alternators-20 Amp. 
Circuit Breaker Panel
12 Volt Socket
Pilot And Copilot Seats:
Adjustable Fore And Aft
Seat Belts
Wall To Wall Carpeting
Map and Storage Pockets
Luggage Compartments
Epoxy Corrosion Proofing, All Structure
LH/RH Front Door Pilot/Copilot, Lock And Key 
All Lateral And Rear Windows Tinted Brown
Main Wheels, 5,00 X 5
Nose Wheel, 5,00 X 5
Wheel Fairing
Heating System
Ventilator Adjustable 2 Place
Product Support and Documents
Manufacturers Full Two Year Limited Warranty 
Pilots Operation Handbook
Maintenance Manual
Parts Catalogue
Engines Rotax 912UL 100 Hp, 4 Cylinders
Liquid/Air Cooled, Integrated Reduction Gear Dual Ignition System
Throttle Control
Tubular Steel Engine Mount
Propeller Sensenich, 2 Blade Fix
Propeller Spinner
Air Filter
Oil Filter
Oil And Water Coolers
C-1001 P92 ECHO MKII 100HP Standard
C-1002 P92 ECHO MKII 100HP Standard EU 600 Kg Package
Non-Additive. Replaces all Standard Equipment.  Also Includes the following equipment:
Avionic Package:
GARMIN GMA245 Audio Panel
GARMIN GTX 335 TRANSPONDER with GPS
KANNAD ELT 406 Mhz WITH REMOTE MOUNTED SWITCH
STICK PUSH-TO-TALK SWITCH-PILOT/COPILOT
MIC & PHONE JACKS-PILOT/COPILOT
Antennas:
Transponder
VHF
ELT
Emergency Parachute System BRS
C-1002 P92 ECHO MKII 100HP GARMIN G3X
Includes the following equipment:
Two Display GDU 460 With EIS

GDU460
GDU460
ADAHRS GSU 25
GEA 24 Engine Instrument Module
GMU 22 Magnetometer
GTP 59 Temperature Probe
LRU KIT
INSTALLATION KIT
G3X SENSOR KIT
GA 56 Antenna
Gsu Configuration
AMPS (AMMETER SHUNT OR HALL EFFECT)
MONITOR CHT
AIRCRAFT BUS VOLTAGES
OIL TEMPERATURE
OAT
OIL PRESSURE
MANIFOLD PRESSURE
FUEL PRESSURE
RPM
TRIM INDICATOR
LH + RH FUEL QTY
Avionic Package
GARMIN GMA 245 Audio Panel
GARMIN GTR 225A COM
GTX 35R Transponder mode S remote mounted
ELT KANNAD 406 MhZ
STICK PUSH-TO-TALK SWITCH-PILOT/COPILOT
MIC & PHONE JACKS-PILOT/COPILOT
Antennas:
Transponder
VHF
GPS
ELT
C-1004 P92 ECHO MKII 100HP G3X EU 600 Kg Package
Includes the following equipment:
Emergency Parachute System BRS
Some images may contain optional items not included in the standard. Option also pictured. Export certification requirements may require additional equipment and charges.
All Versions
Code

Kg

Description

P92 ECHO MkII 100HP US LSA 

Extended Warranty for Rotax Engine (1 year extension)

Fire Wall Inox

Airspeed Ind., Kts 

Panel Switches:

Tie Down Rings

Fire Sleeve On Fuel and Oil Tubes 

Thermostatic Valve Oil Baggage Compartment Net

External Power Supply

Taxi Light LED

Wing Light Green/Red, White and Strobe AVEO

Auxiliary Fuel Pumps, Electric

Windshield Defroster

P92 Echo MkII Special Colours  


De Luxe Reclining seats, two  (Exchange for standard seats)

Disassembling and Packing in Container
Specifications subject to change without notice. Always consult the Aircraft Flight Manual.
Fuselage Height 
Fuselage Length 
Wingspan 
Area 
Max Seating capacity  2
Fuel tank capacity 25 US gal – 95L
Maximum Take Off Weight 
Empty Weight, Standard** 645 lb – 293 kg
Useful Load 
Baggage allowance 
 *Empty weight could vary by ±2%
**Without unusable fuel
Engine Manufacturer ROTAX 912 ULS
Engine Power 100 HP
Propeller Sensenich, 2 Blade Fix
Fuel Consumption  4.50 US Gal/h –17 lt/h –
Fuel Type Mogas and Avgas
 

 

472.5 kg ULM

 

 

600 kg  ULM/LSA

Max Cruise Speed KTAS

115 kts

213 km/h

 

115 kts

213 km/h

Stall Speed (Flaps Down Power Off) KCAS

35 kts

64 km/h

 

39 kts

72 km/h

Practical ceiling

14000 ft

4267 m

 

14000 ft

4267 m

Take off run

328 ft

100 m

 

460 ft

140 m

Take off distance

755 ft

230 m

 

885 ft

270 m

Landing Run

328 ft

100 m

 

393 ft

120 m

Landing Distance

755 ft

230 m

 

885 ft

270 m

Empty Weight

645 lb

293 kg

 

750 lb

340 kg
*Sea Level
**(75% + res. 30 min) max fuel
All estimated performance data are based on aeroplane weights at MTOW; standard atmospheric conditions; level, hard surface, dry runways, no wind.
Sign up to our Newsletter to receive relevant news on our aircaft.
Find a Sales Representative across our Global Sales Network
Book a demo and fly the P92 Echo MkII
Get the P92 Echo MkII brochure
Find all the details of the P92 Echo MkII